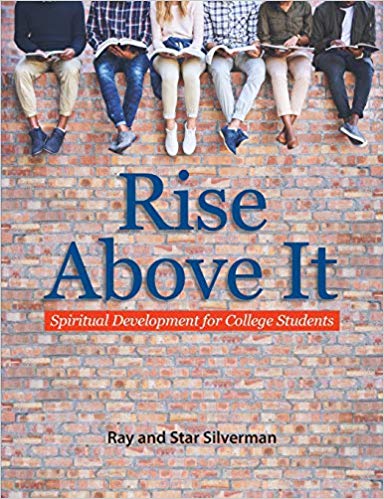 Rise Above It: Spiritual Development for College Students is a textbook for a course in practical spirituality for young adults in general, and specifically for college students. In this course, "rise above it" refers to rising into higher states of consciousness through practicing universal spiritual principles. In these higher states, above ego concerns, students become more self-aware and gain a broader, deeper perspective on the issues that confront them. While this course does not deal directly with the pressing social issues of our day (violence, substance abuse, global warming, gender identity, poverty, etc.), it does encourage students to examine themselves in the light of universal truth. This leads to an awareness in which they can make decisions that are grounded in the highest human values.
Using the Ten Commandments as a framework for universal spiritual principles, this book demonstrates how spiritual practice is the core of every major religion—regardless of differences in doctrine or ritual. Students will not only learn how the commandments occur in Judaism, Christianity, Islam, Hinduism and Buddhism, they will also have the opportunity to practice these spiritual principles in their own lives—especially in regard to the college experience.
Each chapter has four parts:
Introductory Story- An opening story based on world history, famous literature, or current events, intended to introduce the spiritual practice to be discussed in the chapter.
World Scriptures- A survey of the major religions, with a focus on how each religion contributes to a fuller and deeper understanding of the spiritual practice being studied that week. Many perspectives on the same truth reveal multiple facets of the same gem.
Journal Entries- Excerpts from journal entries and weekly reports, selected from over 12,000 journal entries written by students who have taken this course over the past eighteen years. The book contains over 100 of these anonymous journal entries, reproduced with permission.
Suggestions for further reflection and practice.
Many participants in this course have described themselves as "spiritual but not religious," "evangelical," "agnostic" and even "atheist." Regardless of how students initially describe themselves, they find this course tremendously useful in becoming a finer version of themselves.
This course has been taught in a variety of formats for both undergraduate and graduate credit at Bryn Athyn College, the Graduate Theological Foundation, Lincoln University, Mercer University, and the Pacific School of Religion. It is recommended for courses in Practical Spirituality, Religious Ethics, Comparative Religion, Professional Ethics, Moral Life, and Ethical Decision-Making. It could also provide the framework for a First-Year Studies program. A 22-page index, along with a bibliography that includes multiple web sources is designed to help students pursue further research interests. The course has been taken for both undergraduate and graduate credit, and as a non-credit extracurricular course in spiritual growth and leadership.
For more information about how to help fellow students to rise above the challenges they confront, click here on "Peer Listening" to view the article.